Prohibition Jazz Band Hire
Prohibition Jazz Band Hire or Speakeasy Jazz Band Hire, it's all the same thing, (also think 1920's Jazz Band, Trad Jazz Band, Roaring 20's Bands, Dixieland Jazz Band and Great Gatsby Jazz Band) We present the London based Mississippi Swamp Dogs Jazz Band. Often known by their alter-ego "Dan Darling and his Lovely Chaps" they've been brought up from the Deep South to perform a stunning mix of Vintage Jazz Standards to get the toes tapping, the legs shimmying and the arms sailing!!
---
Prohibition Jazz Band Hire
---
 Prohibition Jazz Band Hire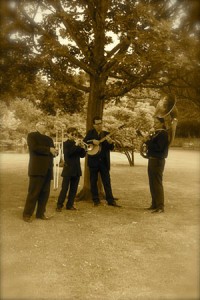 Gussied out in tuxedos, wing collars and dickies, the Swamp Dogs are professional masters of Gangster Era Jazz. Expect to hear songs such as:
The Black Bottom
The Charleston
Five Foot Two Eyes of Blue
I Wish I Could Shimmy Like My Sister Kate
Sweet Georgia Brown.
With members of the band "borrowed" from the top "Period Orchestras" on the London Vintage Circuit, you're guaranteed a tip top event. The band is perfect for a Charity Ball, a Roaring Twenties Night, a Great Gatsby night, a Jazz Club, a Wedding Reception and Wedding party. Not only the above. The band is so suitable for corporate events like Henley, Ascot and Wimbledon. The band also do Company Promotions, Thames cruises and even funeral celebrations!
---
Prohibition Jazz Band Hire
For more information here is our  contact page. You can also go to our  Jazz Band Hire page for phone numbers and email. Maybe you want to see the band play in London? Our public performance dates can be accessed here.
The following services are also offered: Great Gatsby Jazz Band Hire, Speakeasy Jazz Band Hire, 1920's jazz band Hire London, Dixieland Jazz Band Hire, Jazz band hire Kent, Jazz band hire Brighton, Jazz Band Hire Oxford, Jazz band Henley,  New Orleans Jazz Band hire, New Orleans Funeral Jazz Band hire, Burlesque Band hire, Jazz Band Wedding Hire, Cruise ship band hire, Chelsea and Hampton Court flower show Jazz Band, Party Band Hire, Jazz Band Hire Cotswolds, Jazz Band Surrey Hire too.
---
Prohibition Jazz Band Hire
Want to know something of the Prohibition era? Read some information here.
---